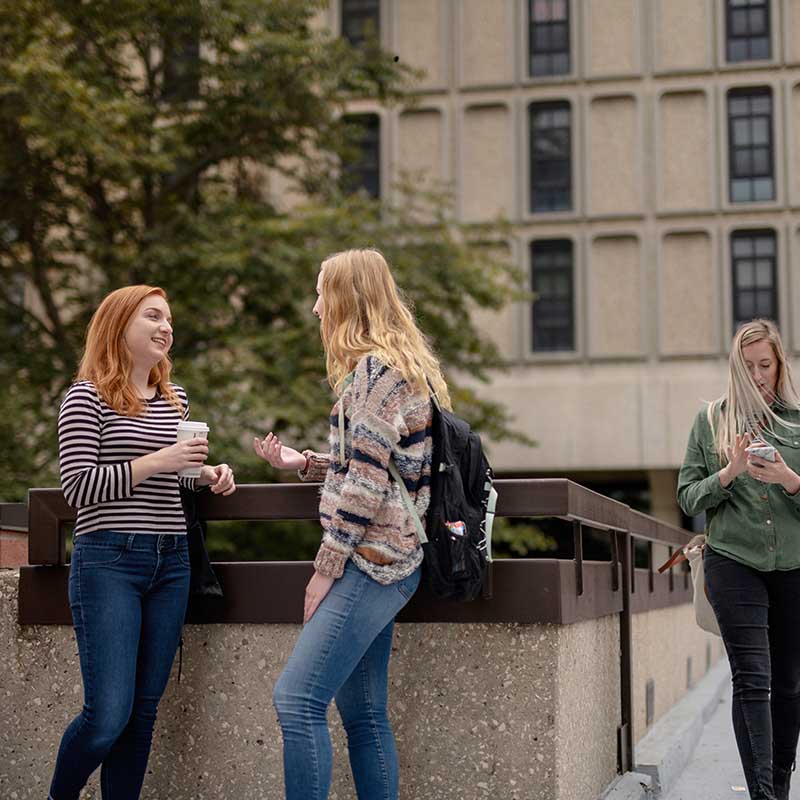 Maple
With sinks in each room and semi-private bathrooms, Maple offers the perfect combination of community and privacy. Over 500 residents call Maple home and create a welcoming community for everyone. Maple has a large main floor lounge and the Maple-Willow-Larch Commons has Seasons dining, East Side Market, a computer lab, game room and plenty of places to hang out or study.
Maple is also substance free. This means that alcohol, tobacco and other drugs are prohibited in this hall regardless of the age of the student. 
Quick Facts
| | |
| --- | --- |
| Location | East Campus |
| Open Winter Break | Yes |
| Air-Conditioned | Yes |
| Meal Plan Required | Yes |
| Building Type | Hall |
| Kitchenette | In the den of each floor there is a refrigerator, counter top and sink. |
| Furnishings | Maple Hall features two large common areas on the ground floor where many of the hall activities take place. Organize a study group and take advantage of the open space, or meet up with friends and relax. |
| Floors | 8 |
| Average Room Size | Doubles: 15′ x 11′ 10″ |
| Capacity | 496 |
| Laundry | Located in the lower level, the laundry room has 10 washers and dryers as well as rinse sinks. |
Current Rates
Learning Communities and Theme Houses
Why Join?
A live-in Learning Community is a great way to connect socially and academically!
Learn More
Get In Touch
Hall Desk & Mailroom
C2114 – Located in the MWL Commons
Monday-Friday: 8 a.m.-6 p.m.
Saturday – Sunday: 1-5 p.m.
Phone: 515-294-8401
RA on Duty
515-291-0953
RAs are on duty when the hall desk is closed, hours will vary accordingly. For the RA on Duty numbers for the other Residence Halls, click here.
Mailing Address
Resident's Full Name
204 Beach Road, Room #
Ames, IA 50013-0025