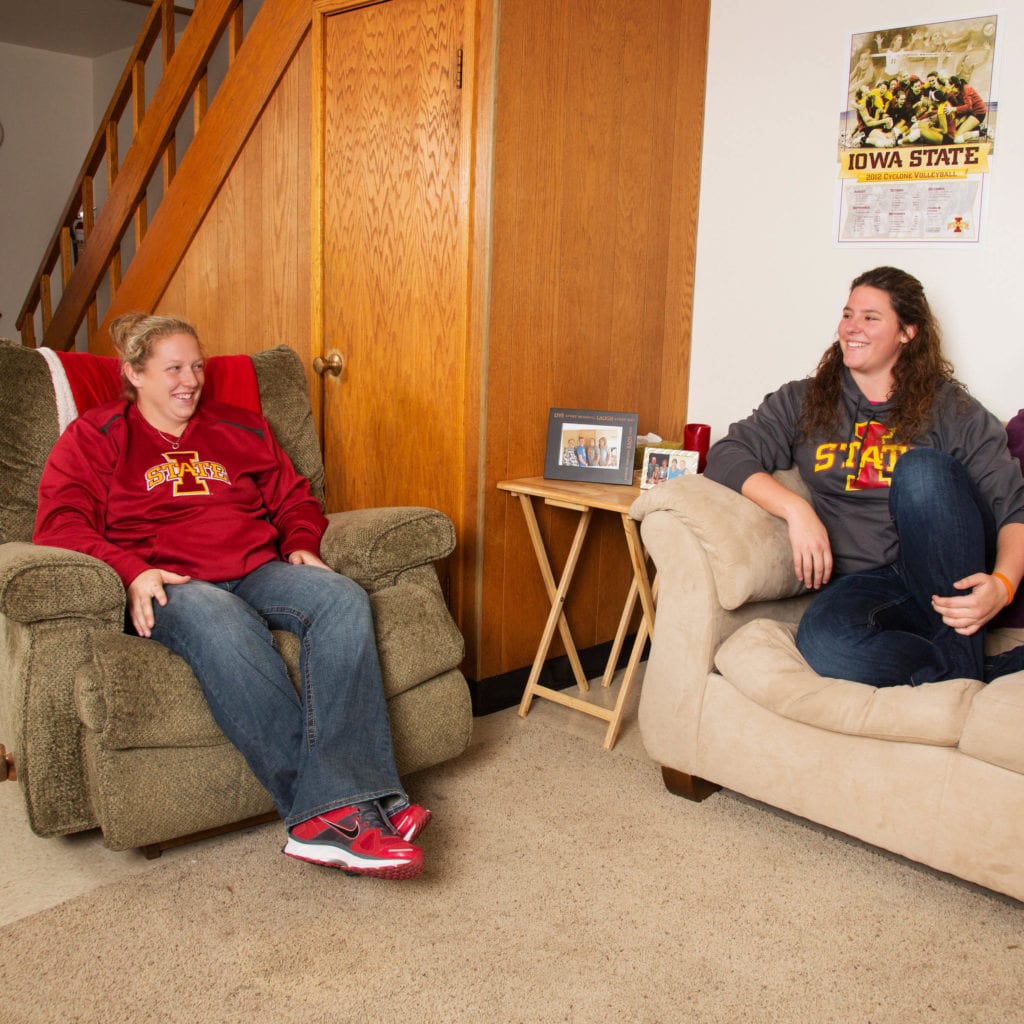 Amazing community at a great price!
University Village apartment community is the perfect place to call home while you're continuing your Cyclone adventure! These townhouse-style units offer one of the lowest two-bedroom rental rates in town.
Rates
The full apartment rate is if you choose to have the full apartment to yourself. The rate with roommate is what you'd pay if you have a roommate.
| | | |
| --- | --- | --- |
| Apartment Style | Full Apartment Rate | Rate with Roommate |
| 2 bedroom, Unfurnished Townhouse (most common) | $6210 | $3105 |
| 2 bedroom, Unfurnished Townhouse, PET Friendly | $6580 | $3290 |
| 2 bedroom, Furnished Townhouse | $6580 | $3290 |
| 2 bedroom, Unfurnished 1 level (limited) | $5840 | $2920 |
| 1 bedroom, Unfurnished (8 units; not always available) | $5425 | N/A |
University Village
Most units are two level, townhouse style with a private entrance. Your apartment will have a fenced front patio and a small concrete slab small back patio.
The main level has a kitchen with a gas stove/oven and a refrigerator. The living area is open to the kitchen. Upstairs, there are two bedrooms and a full bathroom. 
Most units are unfurnished. There are a few furnished units available that come with a 3 seat couch, armchair, coffee table and TV stand in the living room; a dining table and chairs near the kitchen; and a twin bed, night stand, desk and chair in each bedroom.
University Village is part of the Schilletter and University Apartment Community (SUV). Schilletter Village houses students with families.
Rent and Utilities
Our rates are listed per apartment. If you choose to live in an apartment by yourself and don't want a roommate, you'll pay the full amount. If you have a roommate, your share of rent will be half of what's listed. Rent is billed to your Ubill at the beginning of each semester.
All utilities are included except gas. Gas is contracted through Alliant Energy by the resident. Included utilities are: electricity, water, garbage service and DSL internet. If you want wireless internet in your apartment, you will need to bring your own router.
Internet
MetroNet is the internet service provider in SUV. Expect speeds up to 1 gigabit. You'll need to bring a wireless router and connect it if you want wireless internet in your apartment. For more information, click here.
Pets
Pets are allowed in specific University Village Apartments! Pet apartment residents pay the pet rate even if they don't own a pet. If a roommate leaves a shared pet apartment, the apartment will become private until the roommate who stayed finds a new roommate (meaning the remaining roommate pays the full amount). Review our pet policy.
Buildings 121 through 125 and 145 through 163 are pet friendly. All other apartments do not allow pets (other than fish).
Roommates
Want to live with someone of the opposite gender? You and your roommate will need to make that request to our office in writing (2419 Friley Hall, housing@iastate.edu).
If you sign a single contract, you will be placed with a roommate of the same gender as you.
Community Center
The SUV Community Center has several different amenities that include: the front desk and offices for staff members, a computer lab with printer, large multipurpose room, and a kitchen. Residents can access the building 24/7 and it's where you'll enjoy community events!
Parking
Parking is available and passes are purchased through the ISU Parking Division.
Laundry
You can install a washer in your apartment. Or, you can use the laundry center available to the community. Machines accept cards and CyCash for payment.
Outdoor Recreation
Enjoy plenty of green space, basketball courts, garden space, fruit trees and hammock poles. And, we have great walking/biking paths that connect to campus and the Ames community trail system.
Meal Plans
Though a meal plan isn't required, you can choose to build one that works for you by checking out these ISU Dining meal plans.
Get In Touch
SUV Office
Community Center
2119 Edenburn Drive
Monday-Friday: 8 a.m. – 6 p.m.
Saturday-Sunday: 1 – 5 p.m.
Phone: 515 294-5360
Fax: 515-294-0651
Email: suvoffice@iastate.edu
CA on Duty
515-290-2460

CAs are on duty when the SUV office is closed, hours will vary accordingly. For the CA on Duty numbers for other areas, click here.
Mailing Address
University Village
Resident's Full Name
Street Address, Apartment #
Ames, IA Zip Code
Building Addresses, Mail and package information.
Maps